Definition of Automatic Shelf Registration
What does the term "automatic shelf registration" mean? What is the definition of the term "automatic shelf registration" as it applies to the stock market?
A "shelf registration" is a public offering where a company can offer multiple types of securities. These securities don't have to be issued immediately - instead, the company can choose to issue them whenever they are needed.
For instance - a company may file a S-3ASR in which they can offer multiple securities that may be sold in the future. These securities may include: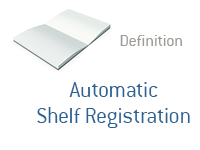 Common Shares
Preferred Shares
Warrants
Convertible Bonds
The company may offer these securities from "time to time" after the automatic shelf registration has been filed with the SEC. The filing, in no way, means that the company is planning on selling all of the securities mentioned in the filing immediately.
The Automatic Shelf Registration is available to "Well-Known, Seasoned Issuers". These "WKSIs", as they are called, qualify by:
1) Having all of their filings to date
and:
2) Having a market cap of at least $700 million
or
2a) Having issued more than $1 billion in registered debt offerings over the past three years
--
The advantage of the Automatic Shelf Registration is that it allows companies to quickly sell securities whenever they need to.
--
Davemanuel.com Articles That Mention
Automatic Shelf Registration:
None