Definition of Campaign
What is the definition of the term "campaign"? What is meant by the word "campaign"?
A campaign is a concerted and coordinated effort to win some sort of office, political or otherwise.
For instance, Joe Smith wants to run for mayor of the small town that he lives in, and he decides to launch a "campaign" to become mayor. This could include posting signs around town, going door-to-door to talk to constituents and placing ads in the local newspaper.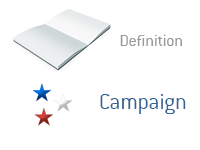 Barack Obama has also launched his campaign to win the US Presidential election. Obama's campaign is considerably more complex than Joe Smith's campaign, as you can probably imagine. The Obama campaign will have hundreds of employees and tens of thousands of volunteers. Obama's campaign will involve the placing of advertisements, making appearances across the country and raising money - this is all part of the campaigning process.
When somebody drops out of a race, they are said to have "suspended their campaign". This is just a nice way of saying that they have dropped out of the race.
--
Davemanuel.com Articles That Mention
Campaign:
When Do People Usually Announce That They Are Running For President?
How Much Did The US National Debt Go Up Under President Trump?
Which Presidents Did Not Attend the Inaugurations of Their Successors?
Who Signed The Veterans Access to Care Through Choice, Accountability and Transparency Act Into Law?
How Can President Trump Get Re-Elected in November?