Definition of Earnings Blowout
What is the definition of an "earnings blowout?" What constitutes "blowing out earnings"?
Simply put - an earnings blowout occurs when a company significantly beats earnings expectations.
Analysts publish their earnings expectations for a company before quarterly earnings are announced.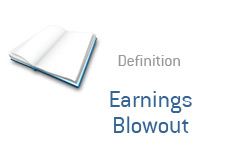 Earnings expectations from all of the analysts who are currently following a company are added together and averaged out, creating a "consensus earnings estimate".
If the earnings number ends up being much higher than the consensus estimate, then this constitutes an "earnings blowout".
Example:
Analysts expect, on average, that XYZ will post earnings of 43 cents per share for their upcoming quarter (Q4).
XYZ ends up posting a number of 64 cents per share, easily besting even the most optimistic of estimates.
This would certainly constitute an "earnings blowout".
--
Davemanuel.com Articles That Mention
Earnings Blowout:
None