Definition of Earnings Disappointment
What does the term earnings disappointment mean? What is meant by the term earnings disappointment?
When a company reports their quarterly earnings, there are two sets of numbers that are looked at.
First off, the company will have its own earnings projections that they will announce during their conference calls. These earnings projections make up something that is called "guidance", which consists of the forward-looking expectations that a company has for their earnings, revenues and sales.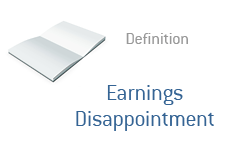 Analysts will also have their own earnings expectations for a company. Earnings expectations from all of the analysts who follow a company are thrown together to create something known as "analyst expectations".
An earnings disappointment occurs when a company misses their own number and/or analyst expectations. In most cases, the company's number will be a bit lower than analyst expectations, as many companies are known to undersell how well they will do in future quarters in order to maintain positive momentum in the eyes of the investing public. If a company misses analyst expectations, then downgrades will likely occur and the stock will likely fall.
An "earnings disappointment" occurs when a company misses a) the number that they previously gave out as part of their guidance b) "analyst expectations" c) both.
--
Davemanuel.com Articles That Mention
Earnings Disappointment:
None