Definition of Hockey Related Revenues
What does the term "Hockey Related Revenues" mean? What is the definition of the term "hockey related revenues"? What does "HRR" mean?
The simple definition of "Hockey Related Revenues":
The CBA creates a fixed relationship between the league's revenues and the amount that is available to be paid out to players. Basically, "hockey related revenues" is the money that is generated from revenue streams that are directly or indirectly related to the playing of NHL games, including ticket sales, concession sales, broadcasting agreements, etc. In addition, if player's names and likenesses are used (video games, etc), they will participate in those revenue streams as well.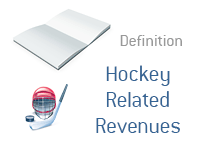 The long-winded definition of "Hockey Related Revenues":
The Collective Bargaining Agreement ("CBA") between the NHL and the NHLPA describes "Hockey Related Revenues" as:
"..meaning the operating revenues, including Barter, from all sources, whether known or unknown, whether now in existence or created in the future.. relating to or arising directly or indirectly out of the playing of NHL hockey games or NHL-related events in which current NHL players participate or in which current NHL player's names and likenesses are used, by each such Club or the League, or attributable directly to the Club or the League from a Club Affiliated Entity or League Affiliated Entity.."
The actual definition of "HRR" is even longer and can be found on page 160 of the 2005 Collective Bargaining agreement.
The list of revenues that were included in the 2005 CBA's version of "Hockey Related Revenues":
1) NHL Regular Season & Playoff Gate Receipts
2) Pre-Season Games
3) Special Games (International Exhibition Games, etc)
4) NHL National, International and National Digital Broadcasts
5) NHL Networks
6) Local Cable Television Broadcasts
7) Local Pay-Per-View, Satellite and Other Broadcasts
8) Local Over-the-Air Television Broadcasts
9) Local Radio Broadcasts
10) Club Internet
11) Publications
12) In-Arena Novelty Sales
13) Non-Arena Novelty Sales
14) Concessions
15) Luxury Boxes/Suites
16) Club/Premium Seats
17) Fixed Signage/Arena Sponsorships
18) Temporary Signage/Club Sponsorships
19) Dasherboards
20) Parking
21) Other Revenues (sale of game-worn jerseys, skills competitions, open practices, etc)
There are various calculations that allow clubs to report revenues net of direct costs. For instance, product costs and food-preparer salaries are direct costs of concessions, etc.
--
Revenues that are NOT included in "hockey related revenues" include:
-revenues from relocation of sale of any existing club
-proceeds from loans or other financiing transactions
-interest income
--
Source: NHLPA.com -
2005 CBA (*.pdf)
--
Davemanuel.com Articles That Mention
Hockey Related Revenues:
None