Definition of IPO Lock-Up
What is the definition of an "IPO lock-up period"? What does the term "IPO lock-up period" mean?
When a company files for an initial public offering, they are offering SOME of their shares of the public.
For instance, let's say that Facebook had a billion shares prior to their IPO. Let's say that they are planning on offering 200 million shares of the company (or 20%) at an offering price of $40. This offering would raise $8 billion for Facebook, as the public would buy 200 million shares at a price of $40.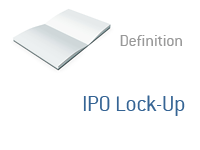 The IPO lock-up period, which is usually between three and six months, prevents insiders and major stakeholders from immediately unloading their shares and torpedoing the stock. Remember, the public now owns 200 million shares of Facebook, but insiders still own 800 million.
Once the lock-up period ends, insiders and large stakeholders can begin selling their shares.
Why have a lock-up period at all?
Imagine if a company went public and insiders were allowed to immediately dump their shares on the open market. An insider could conceivably sell out of their position without the company having ever filed one earnings report as a publicly traded company. The lock-up period allows potential investors to properly scrutinize a company before insiders are allowed to dump their shares to the public.
--
Davemanuel.com Articles That Mention
IPO Lock-Up:
None