Definition of Kickback
What is a kickback? What is the definition of the term kickback?
A kickback occurs when a payment is made to somebody who has helped to facilitate something, such as a new contract or a new job.
The term "kickback" has a negative connotation to most, but it can also refer to transactions that are perfectly legal as well.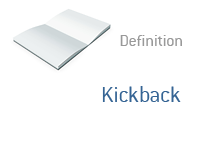 Let me give you an example of a legal kickback and of an illegal kickback:
1. Legal Kickback. Joe Smith is thinking about leaving his current job as an investment banker. He is looking for more money and more responsibility. In order to help find this new position, Joe decides to hire a headhunter to help land him a new job. Joe agrees that he will pay the headhunter 30% of his first year's salary. This is a legal kickback.
2. Illegal kickback. A new stadium is being built and is being financed with public money. One of the contractors who will be bidding on the lucrative job meets with the governor in a clandestine meeting. The governor agrees to use his power and influence to ensure that the contractor that he met with gets the contract. In return, the contractor will pay the governor $2 million. This is an illegal kickback.
--
Davemanuel.com Articles That Mention
Kickback:
The Top Ten Most Outrageous Stock Market Scams of all Time