Definition of Layoff
What is a "layoff"? What is the definition of the term "layoff"? What does the term "layoff" mean?
A "layoff" occurs when an employer elects to halt the employment of one (or more) of its workers. "Layoffs" can be temporary or permanent.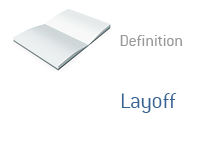 For instance, let's say that there is a company called XYZ Furniture, Inc. XYZ Furniture, Inc. makes most of its money from furnishing hotels.
Due to a downturn in the economy, a couple of major new hotel projects are put on hold. This has an immediate impact on XYZ Furniture, Inc.'s business, so they are forced to lay off half of their workers. They are hopeful to hire back many of these workers when the economy turns back up, but they can't promise anything.
Here's another example - XYZ Biopharmaceuticals goes out of business after one of their drug applications is declined by the FDA. Due to this development, XYZ Biopharmaceuticals is forced to lay off all of its workers. Barring some sort of a miracle, these workers will not be rehired by the company.
For employees, a "layoff" is involuntary.
--
Davemanuel.com Articles That Mention
Layoff:
ABC Enjoying Strong Ratings From NBA Finals, Though Can It Continue?
Maurice Harkless and the $500,000 Three Pointer Bonus
NFL Executives Breathing Sigh of Relief Following Ratings Rebound
Alex Rodriguez: Baseball's $500 Million Man Walking Off Into The Sunset
Donald Sterling Situation Throws NBA Into Turmoil