Definition of Recency Bias
What does the term "recency bias" mean? What is meant by the term "recency bias"?
"Recency bias" is the phenomenon of a person most easily remembering something that has happened recently, compared to remembering something that may have occurred a while back.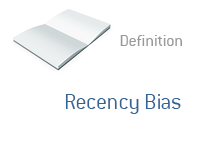 For instance - if a person is asked to recall the names of 30 people that they have just met, they will usually remember the names of the people that they most recently met first.
--
Let's take another look at an example of "recency bias".
A fictional 24 hour sports network has a year-end special called the "Greatest Sports Plays of All Time". The show features the best ever plays from sports like football, baseball, basketball, etc. The show polls fans to develop a list of the best ever plays.
Each year, plays that occurred over the past year dominate the show. Did 70% of the greatest sports plays of all time really occur just over the past 12 months? Definitely not - this is an example of "recency bias", as we tend the best remember the events that have occurred most recently.
--
Davemanuel.com Articles That Mention
Recency Bias:
None