Definition of Takeover Bid
What is a "takeover bid"? What is the definition of the term "takeover bid"?
A "takeover bid" is when an investor (or a group of investors, private equity firm, etc) announce their intentions to purchase a company at a certain price.
In a "takeover bid", the interested buyer reveals the price that they are willing to pay for the intended target, as well as the proposed terms of the acquisition (would the bid be all cash, part stock/part cash, etc).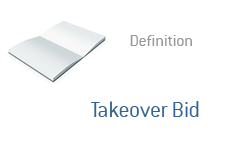 Shareholders of a company are obviously not obligated to accept any bid that comes their way, so they are given an opportunity to mull over the bid and vote on it.
If shareholders choose to vote against a takeover bid, then the interested buyer can always choose to increase their bid to elicit a more favorable response.
The two more common types of takeover bids are:
1. Friendly Bids - this is when a potential buyer works with a company's Board of Directors to formulate an offer that will likely be palatable to shareholders. Endorsement of a deal by the company's board of directors generally makes the bid more appealing to shareholders.
2. Hostile Bid. This is when a potential buyer will try to navigate past a management of a company that is unwilling to sell, instead appealing directly to shareholders.
--
Davemanuel.com Articles That Mention
Takeover Bid :
NY Times: FBI Investigating Carl Icahn, Phil Mickelson For Possible Insider Trading Violations
Facebook Now Valued at Around $79 Billion
Institutional Investors Continue To Be Indifferent Towards Yahoo!