Can Yahoo! Ever Recapture Its Former Glory?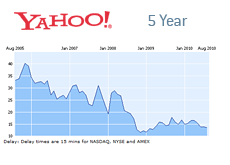 Back in February of 2008, Microsoft made an unsolicited takeover bid for Yahoo!
The amount of their original bid? $44.6 billion in cash and stock ($31 per share).
Yahoo! rejected the offer, claiming that it would "substantially undervalue" the company.
After some back and forth between the two companies, CEOs Steve Ballmer and Jerry Yang decided to meet in person to see if a deal could be hashed out. Ballmer apparently offered to add another $5 billion to his deal proposal, which would value shares of Yahoo! at around $33/share. Yang reportedly countered this offer by saying that $37/share would be the minimum that Yahoo! would allow itself to be sold for.
In the midst of these negotiations, many institutional investors (especially hedge funds) were positioning themselves in Yahoo!, certain that a deal would eventually get done between Microsoft and Yahoo! In early 2008, Yahoo! definitely held the intense interest of the institutional investor community.
On May 3rd, 2008, Microsoft withdrew their offer and Yahoo! crashed. Yahoo!, which could have sold itself to Microsoft for $33/share in mid-2008, is now trading for $13.33/share. Yahoo! is trading right near its 52 week low and is having a very hard time of attracting the attention of the investment community.
Institutional investors are getting bored with the company as well.
Of the 96 institutional investors that we tracked in our database last quarter (Q2/2010), only one decided to open a new position in Yahoo! That company was Black River Asset Management LLC, and their position was a very underwhelming 35,700 shares.
Four of the 96 institutional investors that we track decided to cut ties with Yahoo! completely last quarter. They were:
Clovis Capital Management LP - 3,150,000 shares
Calamos Advisors LLC - 85,000 shares
Tiger Global Management LLC - 1,261,200 shares
Artis Capital Management, LP - 2,617,800 shares
--
Of the 96 investors in our database, 10 decided to reduce their positions in Yahoo! during the second quarter, while 9 decided to increase their positions.
Some of the companies that dramatically decreased their stakes in Yahoo! last quarter were:
Citadel Advisors LLC, -5,484,182 shares
SAC Capital Advisors LP, -4,350,680 shares
Two Sigma Investments LLC, -4,061,412 shares
The two companies that decided to make sizable increases to their outstanding Yahoo! investments during Q2 were:
Janus Capital Management LLC, +41,717,191 shares
Adage Capital Partners GP LLC, +1,062,700 shares
Janus Capital Management LLC now owns 7.13% of the company.
--
Of the 96 institutional investors that we tracked during Q2/2010, only 24 were holding positions in Yahoo! by the end of the quarter. This was down from 27 in Q1/2010.
Google, on the other hand, was held by 40 of the 96 companies in our database at the end of Q2/2010.
--
Can Yahoo! recapture the imagination and interest of the investment community?
If so, how?
Source:
Davemanuel.com Q2 Fund Report
Filed under:
Hedge Fund News