Definition of TFSA
What does the term TFSA mean? What is meant by the term TFSA?
If you are currently living in Canada, then there is a good chance that you have heard the term "TFSA" used on TV or on the radio.
To start, TFSA stands for:
Tax-Free Savings Account
The Tax-Free Savings Account was introduced in Canada back in the fall of 2008, and first became available to Canadian citizens on January 1st, 2009.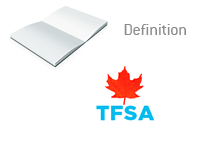 The TFSA is a savings vehicle that complements other savings programs such as the RRSP (Registered Retirement Savings Plan) and the RESP (Registered Education Savings Plan).
With the TFSA, Canadians are able to earn TAX-FREE investment income to "more easily meet lifetime needs". Unlike other plans, there are no early withdrawal penalties - if you need the money in your TFSA for a specific reason (new car, vacation, etc), then you can withdraw it without any headaches and without paying any tax.
All Canadian residents aged 18 and older can contribute annually to their TFSA. Every Canadian has an annual contribution limit of $5,000 to their TFSA plan. Spouses can each contribute $5,000 to their own plan.
It's important to note - contributions to TFSA plans are NOT tax deductible (unlike RRSPs). On the other hand, you can withdraw money from your TFSA at any time without having to pay tax.
Stocks, mutual funds, GICs and bonds can all be held within a TFSA.
--
Davemanuel.com Articles That Mention
TFSA:
Canadian Government Set To Increase Annual TFSA Limit To $10,000
Where Should You Go to Open a TFSA Account in Canada?
The Best Online Brokerage in Canada (In My Opinion)
The Top Three Online Stock Brokers In Canada
What is a TFSA (Tax Free Savings Account) and What Are the Benefits?