Definition of The Big Lie
What does the "Big Lie" mean? What is the definition of the term "The Big Lie"?
In May of 2021, President Donald Trump sent out a statement via his political action committee, Save America PAC, in which he branded his loss in the 2020 US Presidential election as the "Big Lie".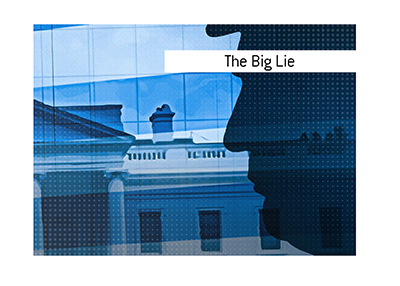 Previously, Trump had called it the "Fraudulent Presidential Election of 2020".
The "Big Lie" refers to the idea that Trump and his supporters have that the 2020 Presidential election was stolen from them, and that the mainstream media, Democratic party, "deep state" and any number of other groups conspired to rob the MAGA movement of the election.
The "Big Lie", as Trump and his supporters call it, is believed by a large number of Republican supporters.
According to a recent CNN poll, 70% of Republicans believe that President Biden didn't receive enough votes to be elected President.
Trump and his supporters contend that "widespread fraud" took place and that Trump actually won the election in a "landslide".
--
Davemanuel.com Articles That Mention
The Big Lie:
None