SAC Capital Advisors LP Buys 5.3% Stake in DPZ
According to a 13G filing that was released by the SEC earlier today, SAC Capital Partners LP has taken a 5.3% stake in Domino's Pizza (DPZ).
The Schedule 13G form revealed that January 12th, 2011 was the "date of event" which required the filing with the SEC.
According to the filing, SAC Capital Advisors, LP acquired 1,440,753 shares of DPZ (2.4% stake), while Sigma Capital Management, LLC acquired 1,750,000 shares (2.9% stake). The combined position is 3,190,753 shares, which equals a 5.3% stake in DPZ. Steven Cohen controls both SAC Capital and Sigma Capital Management, LLC.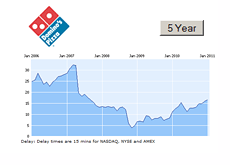 SAC Capital Advisors, LP is one of the most successful hedge fund firms in the history of modern finance. The firm's success since its inception in 1992 has made its founder, Steven A. Cohen, an extremely wealthy man (Forbes estimated his net worth at $7.3 billion in 2010).
--
Of the 97 major investment managers that we currently track in our database, 12 held positions in DPZ as of the end of the third quarter of 2010. They were:
1) AQR CAPITAL MANAGEMENT LLC (13,900 shares)
2) BROOKSIDE CAPITAL MANAGEMENT LLC (785,461 shares)
3) CAXTON ASSOCIATES LP (25,023 shares)
4) CITADEL ADVISORS LLC (17,816 shares)
5) FMR LLC (1,911,756 shares)
6) GOLDMAN SACHS GROUP INC (917,604 shares)
7) JENNISON ASSOCIATES LLC (85,816 shares)
8) MILLENNIUM MANAGEMENT LLC (253,007 shares)
9) RENAISSANCE TECHNOLOGIES LLC (77,000 shares)
10) SAC Capital Advisors LP (39,026 shares)
11) Soros Fund Management LLC (10,600 shares)
12) TWO SIGMA INVESTMENTS LLC (410,928 shares)
Domino's Pizza (DPZ) closed today at $16.55, which is just under its 52 week high of $17.28. The stock has staged an epic comeback over the past 27-28 months after trading down to just $3/share in November of 2008.
Source:
SAC Capital 13G Filing for DPZ