Soros Fund Management LLC Purchases 2.07 Million Shares of WPRT
In a Form 13G filing released by the SEC earlier today, Soros Fund Management LLC announced that they had acquired a 5.26% stake in Westport Innovations Inc. (WPRT).
According to the filing, the date that required the filing of the 13G was April 26th, 2010.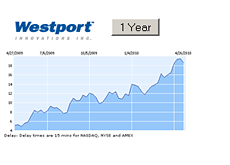 This was a Form 13G filing, which means that this is a "passive investment" for Soros Fund Management LLC. This means that Soros Fund Management LLC will not be looking to exert control over the company.
At the end of Q4/2009, eight of the 102 funds that we track in our database held positions in WPRT. They were:
Renaissance Technologies LLC - 35,800 shares
AQR Capital Management LLC - 76,860 shares
Citadel Advisors LLC - 343,994 shares
Diamondback Capital Management, LLC - 130,500 shares
Alydar Partners LLC - 50,000 shares
Black River Asset Management LLC - 3,200 shares
Mazama Capital Management Inc - 424,780 shares
Two Sigma Investment LLC - 14,527 shares
WPRT is currently trading at $18.55 per share. The stock has been on a steady climb over the past 12 months, trading from a low of $4.31 to a recent high of $20.07.
Source:
Soros Fund Management LLC Form 13G Filing For WPRT
Source:
Davemanuel.com WPRT Quote