What Does It Mean If a Country is Downgraded from AAA to AA+
In case you haven't heard, Standard + Poor's downgraded the sterling AAA credit rating of the United States for the first time earlier tonight.
The move was widely expected, as the credit rating agency has issued multiple warnings over the past year. In the latest warning, which was issued on July 14th, S+P put the US federal government on a credit watch with negative implications, which meant that there was a 50/50 chance that the United States would be downgraded within 90 days.
S+P said at the time that "at least" $4 trillion in budget cuts would have to be implemented over the next decade in order for the United States to maintain its AAA credit rating. This didn't happen.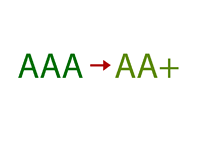 Earlier tonight, S&P pulled the trigger and downgraded the United States one notch from AAA to AA+. As a result, the United States now has the same credit rating as Belgium, and is looking up at AAA countries such as Canada and Australia.
So what exactly does a AA+ credit rating mean?
Let's look at S&P's credit ratings definitions:
AAA - "extremely strong capacity to meet financial commitments. Highest rating."
AA - "Very strong capacity to meet financial commitments."
The '+' is used to show that the United States has a higher relative standing compared to other countries that currently possess AA credit ratings.
A move from AAA to AA+ means that S&P is saying that the United States is slightly less creditworthy compared to other countries such as Canada and Australia. As a result, borrowing costs should increase for the country, which would, in turn, lead to higher borrowing costs for consumers and businesses.
It's also an embarrassing turn of events for the country.