A Look at the Amazon Kindle Touch
Click Here To Order the Amazon Kindle Touch
The Amazon Kindle Touch is one of the newest additions to the Kindle family.
There are actually FOUR different versions of the Kindle touch:
$99 - Kindle Touch Wifi w/ Special Offers
$139 - Kindle Touch Wifi
$149 - Kindle Touch 3G w/ Special Offers
$189 - Kindle Touch 3G
The "Special Offers" refers to sponsored screensavers (advertisements) that show when you are not reading your Kindle. If you can deal with these sponsored screensavers, then the price of your Kindle will drop from $139 to $99 and from $189 to $149 respectively.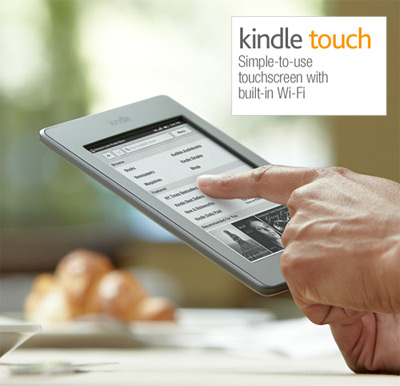 As you can imagine, the Kindle Touch includes a touch screen. The touch screen can be used to turn pages, shop for books and take notes.
The Kindle Touch features a sleeker design compared to previous models of the Kindle. The screen is the same size, but the body of the device is smaller, which will make it easier for you to take the device with you when you travel or commute to work.
The 3G in the Kindle Touch allows you to download books and shop from anywhere in the world. There are no costs involved to use the Kindle Touch 3G - Amazon will cover all of the costs of downloading books, magazines and whatever else for you. You also don't have to worry about finding a 3G network to connect to - Amazon will take care of that for you as well.
Of course, the Kindle provides access to the massive Amazon.com store, in which Kindle Touch users can purchase books, magazines and even newspaper subscriptions.
Click Here to Order the Kindle Touch