LEND / Lone Star Merger - Everyone Got It Wrong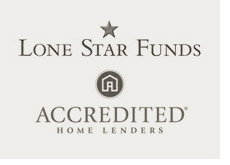 Numerous hedge funds got it wrong, as they piled into LEND on Friday, causing the stock to run up over 45% on heavy trading.
Cramer got it wrong. He said "
Remember, the Accredited Home Lenders deal will close unless the acquirer, Lone Star Funds, is insolvent. Well, Lone Star isn't insolvent and it looks like the deal won't close.
Many investors got it wrong as well. You can't blame them though; if Cramer and the others are pounding the table, saying that the deal is a slam dunk, then you can't really fault them for taking a shot at buying the stock, considering that they could be potentially doubling their investment in just a few short days (considering the buyout price was over $15 and LEND opened on Friday at $7.50.)
So what happened exactly?
Well Lone Star had a deal on the table to buy LEND for $400 million dollars. Just recently, they extended their $15.10 per share offer until August 14th. LEND had been up and down almost daily, as investors fretted about the condition of the company, but then would be comforted by words from Jim Cramer, saying that the deal was ironclad and would go through.
On Friday, the deal received a key regulatory approval that caused most investors to start to assume that the deal would go through for sure now, and that they should snap up the shares of LEND.
Then, after an impressive run-up on Friday, Lone Star dropped the bomb on LEND shareholders; they no longer expect to accept LEND shares tendered at the end of August 14th, 2007. LEND plummeted on this news, dropping over 47% in afterhours trading. Lone Star, a Texas-based hedge fund, cited "a drastic deterioration in the financial and operational condition" of LEND as the reason for calling off the deal.
Considering that an auditor recently said that LEND's continuing viability was a "going concern", this news could be a death-blow for LEND. I would expect some heavy litigation to go on as LEND tries to sue Lone Star into sticking with the deal. Lone Star will cite LEND's deteriorating finances as the reason why they won't accept the tender offer anymore.
LEND shareholders need to understand that this stock will be bankrupt SOON unless something drastic happens. If this deal doesn't go through somehow, LEND's days are numbered.
Filed under:
General Market News