Here Are Three Stocks That I Am Purchasing in 2009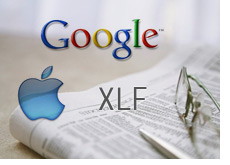 It's no secret - 2008 was a pretty disgusting year for the markets. In fact, 2008 will go down as one of the worst years ever.
That's the bad news.
The good news is that there are some great companies that are trading for a fraction of what they were trading at last year.
Is this a good time to dive headfirst back into the markets? Probably not. I would expect that we have some more pain ahead of us in 2009.
That being said - for the first time in a long while, I'll be a buyer of stocks in 2009. There are three stocks that I'll be adding to my portfolio in early 2009. I believe that all three will do very well over the long-term, which is why I'm buying. Here they are:
1.
Google.
Google is currently trading at $310.17, well off of its 52 week high of $716.00. Google is by far the market leader in the online search business, and are continuing to increase their market share lead over their rivals on a YoY basis. They are an immensely profitable, cutting-edge business that is gradually expanding its reach into print, radio and television advertising. They are sitting on a pile of cash ($14.41 billion dollars), and are uniquely positioned to scoop up smaller companies throughout this downturn. Their competitors are a non-issue. Their company is producing 10 billion dollars of gross profits per year, and quarterly earnings growth is over 20% YoY. They have zero debt and billions of dollars in operating cash flow. What's not to like about Google? Many advertisers are seeking more "bang for their buck" and spending increasing numbers of their advertising dollars on online advertising campaigns. Google is the direct beneficiary of this trend. I have no doubt that Google is going to be a $300-$400 billion dollar company one day. I'm a buyer.
2.
Apple.
Apple is currently trading at $90.00, down from a 52 week high of $202.96. They currently have a market cap of $80 billion dollars. The stock has been taking a beating as of late due to worries about the health of Steve Jobs, the impact of the slowing economy on Apple's business and a number of other worries. Let's look at the positives for Apple. $25 billion cash in the bank. An immensely profitable business that is still experiencing rapid growth. Billions in free cash flow. Iphones, Ipod and Imacs still flying off the shelves. An increasingly loyal customer base. An increasingly innovative product line. This company is a winner, and will continue to do well even if the economy continues to stall.
Both Apple and Google have tiny short positions relative to the size of their floats. Apple and Google both have businesses that they refuse to allow to stagnate, and both are constantly pushing to unveil innovative new products that will satisfy their ever-increasing client bases. These companies are both winners.
3.
XLF.
Ok, this is not an individual stock, but rather an exchange-traded fund (ETF). Here is a write-up on XLF that I found:
"A wide array of diversified financial service firms are featured in this sector with business lines ranging from investment management to commercial and investment banking. Among the companies included in the Index are JPMorgan Chase, Wells Fargo, and BankAmerica Corp."
Some of the holdings include: JP Morgan, Wells Fargo, Bank of America, Goldman Sachs and American Express.
XLF has been ravaged over the past year and a half, trading from over $35 to a currently level of $12.23. This is not surprising, considering the beating that the financial sector has taken.
Will efforts to stabilize world economies pay off? Will efforts to unclog frozen credit markets pay off? Will the US economy finally stabilize?
If you believe that the answer to these questions is no, then you should certainly avoid XLF.
In my opinion, the reward in this position outweighs the risk, and I'll be a buyer.
As always - please do your own research. These are three positions that I'll personally be buying in 2009.
Filed under:
Stock Market Education