0% APR For First Twelve Months Credit Cards
Credit card companies will do just about anything to lure new customers.
Some offer bonuses in the form of free air miles or complimentary gifts.
Some offer 0% interest on balance transfers for up to a full year.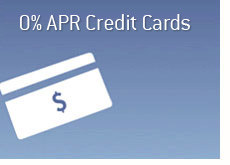 Others (including the ones mentioned in my list below), offer 0% APR on all purchases for up to 12 months.
You may be wondering right away - what's the catch?
The truth is - there is no catch. The credit card industry is unbelievably competitive, and companies are forced to roll out the red carpet in order to attract new clients. If they don't offer unbelievable incentives, then a potential customer will simply open up an account at an company that does.
So what exactly does 0% APR mean?
Well, APR stands for Annual Percentage Rate.
So this means that these companies will offer you a 0% interest rate on your credit card for a period of time (usually 12 months), in exchange for you giving them your business.
Many people have been reporting to us that their interest rates were recently increased by a great deal.
If this has happened to you, then you may want to strongly consider canceling your current credit card and signing up for one of the cards that are listed below, as 0% APR for up to 12 months is pretty enticing, especially in this current economic climate:

American Express Blue Card
Review
||
Please Note: We will be adding to this list over the coming weeks and months. I won't add any cards until I have had a chance to personally review them on this site, so please be patient.
Filed under:
Company Reviews