Review of American Express Delta Reserve Credit Card
Are you a frequent traveller?
Do you prefer to travel in comfort?
Would 24 hour a day concierge services be useful to you?
If you answered yes to any of these three questions, then you should seriously consider applying for an American Express Delta Skymiles card.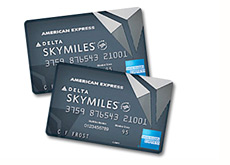 The Skymiles card was introduced by American Express in an attempt to reward their customers who traveled the most.
Reward them not only by making their trips a more comfortable experience, but also by making the trips a less costly endeavor.
This card works in cooperation with Delta Airlines. Here are some of the perks that come with the card:
1. Up to 10,000 MQM (Medallion Qualification Miles) when you make your first purchase with the card.
2. If you spend at least $30,000 on your card in a calendar year, then you can earn up to 15,000 MQMs, as well as an additional 15,000 bonus miles.
3. Spend at least $60,000 on your card in a calendar year and you can earn an extra 30,000 miles (15,000 MQMs and 15,000 bonus miles).
4. Access to a free annual domestic companion certificate, which can be used for a First-Class fare or Coach-class ticket (taxes must be paid by you).
5. Access to the Crown Room Club, which includes satellite TV, complimentary beverages and access to putting greens. The Crown Room Club makes waiting for your next flight a much more comfortable experience.
6. Access to the legendary 24 Hour Concierge service that is offered by American Express. They can help you to book a flight, make dinner reservations or pick up flowers for your sweetheart.
7. No restrictions or blackout dates for any of the Delta flights that you might want to book with the miles from your card. Also, you can pay for part or all of the flight with your Miles.
What are the fees?
If you are a frequent traveller then applying for an American Express Delta Reserve card is almost a no-brainer. There is plenty of value in holding this card, as is the case with most American Express cards.
Applying is quick and simple. Simply click on the link below and you will be taken to a short application form. American Express will have an answer within 60 seconds as to whether you have been accepted or not.
Click Here To Apply for an American Express Delta Skymiles Card
Filed under:
Company Reviews