Review of Tradeking
Click Here to Apply for a Tradeking Account
In these trying economic times, you really can't afford to put your hard-earned money into the hands of a "professional broker".
The reason? A great deal of the time, these "brokers" don't know what the hell they are doing. You are usually much better off managing your own money. After all, who is going to take better care of your money than you?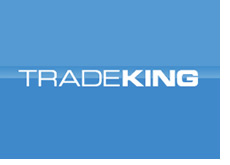 This is where Tradeking.com comes in.
Tradeking is an online broker that allows you to manage your own money from the comfort of your own home. With Tradeking, you not only get to determine when and where your money is invested, but you will also pay a lot less money doing so.
Most trades through Tradeking cost a flat fee of $4.95 per trade. There are some exceptions (for instance, Tradeking adds $0.01 per share to the cost of a trade if you are buying a stock that is less than $1.00), however most trades will very likely cost you around $5. If you are currently dealing with a full-service broker, then this will be a considerable savings for you.
Options trades will cost you $4.95 per trade, as well as $0.65 per contract.
These fees are very competitive.
According to their web site,
Tradeking.com
will cover transfer fees up to $150 when you move your account from another brokerage. This is a substantial chunk of change, and is more money than most other brokers are willing to spend to acquire a new client.
According to their web site, TradeKing achieved the highest score in Customer Service in a June 2008 broker survey in Smartmoney, as well as winning the distinction of #1 discount broker in their August 2007 Broker survey.
In addition, Tradeking was apparently given a 4/5 star rating in the most recent (March 2009) ranking of best online brokers in Barron's magazine. Tradeking was also given the distinction of having the best customer service in the industry by Kiplinger's in November of 2008.
Tradeking opened its doors in 2005, and has since grown its client base dramatically. The Quick Family, Battern Ventures and OCA Ventures are some of the entities who have invested in the company.
The Chairman and CEO of Tradeking is Donato A. Montanaro, Jr. Montanaro, Jr. originally founded SureTrade, Inc., which you may have heard of.
Now, I don't personally have an account at TradeKing.com.
However, I can tell you the three things that Tradeking has going for it, based on the conversations that I have had with some of their clients:
1. Competitive commission structure.
2. Strong customer service.
3. Abundance of useful tools that are available (for free) to Tradeking customers.
Tradeking seems to be a good bet if you are thinking about opening a new online brokerage account.
Click the link below to open up an account today:
Click Here to Open an Account at Tradeking.com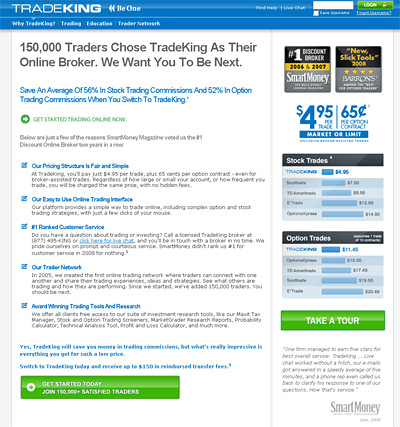 Filed under:
General Market News