69 Bank Failures in 2009 So Far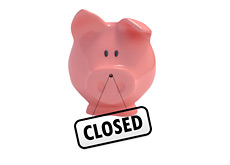 Five more banks failed this week in the United States, bringing the grand total for 2009 up to 69.
This comes just one week after US regulators closed a whopping seven banks in just one week.
We are currently on track for a total of 118 bank closures in 2009, which would be the worst year for bank failures since 1992.
A total of 24 banks failed in July, up from 9 in June.
These numbers are particularly unbelievable when you consider that:
1. Just 30 banks failed in all of 2008.
2. Just 10 banks failed from 2003 to 2007.
Everyone knew that there would be a much larger number of bank failures in 2009, however I'm not sure that people expected the rate of failures to be increasing at such a rapid pace.
As mentioned, five banks failed this week. They were:
1. Mutual Bank - Harvey, Illinois
2. First BankAmericano - Elizabeth, New Jersey
3. People Community Bank - Westchester, Ohio
4. Integrity Bank - Jupiter, Florida
5. First State Bank of Altus - Altus, Oklahoma
According to reports, these five closures will
cost the FDIC's insurance fund "about $911.7 million dollars"
.
As of March 31st, the FDIC Insurance fund had a balance of around $13 billion dollars. This is down substantially from the $52.4 billion dollar balance that it possessed in 2007.
The FDIC will likely have another costly closure to deal with in the coming weeks, as the Guaranty Bank in Austin, Texas is reportedly close to being seized by the government.
While 2009 will certainly end up being a bad year in terms of bank closures, it won't even be close to being the worst year on record.
That distinction belongs to 1930, when 1300+ banks ended up failing. In just the last two months of 1930, a whopping 600 banks shuttered their doors.
The worst year on record in the modern era belongs to 1989, when a grand total of 534 banks failed.
Since 1989, the number of bank closures has been dwindling - up until the last few years, of course.
Source:
A History of Bank Failures in the United States
Filed under:
The Economic Meltdown