A History of Bank Failures in the United States





The United States has had to deal with a number of banking crises during its history as a nation.

The Panic of 1819. The Panic of 1837. The Panic of 1873. The Panic of 1907. The Great Depression. The savings and loan crisis of the '80s and '90s. The financial crisis of 2007-2009. The list goes on and on.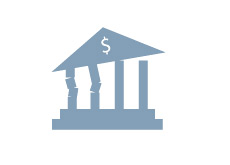 This article will mainly be focusing on the period of time from the Great Depression until present day.

The Great Depression officially began with the Crash of 1929. One of the major reasons for the crash was an unbelievable use of margin - back then, margin requirements were only 10%. When the markets started to crash, many investors soon realized how over-leveraged they were, and the dangerous spot that they were in.

Brokers called in these margin loans as the markets crashed. People flooded their banks, attempting to withdraw their money. Hundreds of banks failed almost overnight, as they were unable to cope with these bank runs.

In the first 10 months of 1930, a total of 744 US banks failed. In November and December of that same year, 600+ more banks failed.

Throughout the entirety of the Great Depression, over 9,000 US banks failed, which is by far the worst stretch in US history when it comes to bank failures.

The FDIC (Federal Deposit Insurance Corporation) was created in 1933 by the Glass-Steagall Act.

The purpose of the FDIC was to provide deposit insurance which would ultimately guarantee the safety of deposits in member banks, up to a certain amount (currently $250,000 per depositor per bank today).

You can view the history of bank failures since the establishment of the FDIC below:

Year - Number of Bank Failures

2014 - 18
2013 - 23
2012 - 50
2011 - 92
2010 - 157
2009 - 140
2008 - 30
2007 - 3
2006 - 0
2005 - 0
2004 - 4
2003 - 3
2002 - 11
2001 - 4
2000 - 7
1999 - 8
1998 - 3
1997 - 1
1996 - 6
1995 - 8
1994 - 15
1993 - 50
1992 - 181
1991 - 271
1990 - 382
1989 - 534
1988 - 470
1987 - 262
1986 - 204
1985 - 180
1984 - 106
1983 - 99
1982 - 119
1981 - 40
1980 - 22
1979 - 10
1978 - 7
1977 - 6
1976 - 17
1975 - 13
1974 - 4
1973 - 6
1972 - 2
1971 - 7
1970 - 7
1969 - 9
1968 - 3
1967 - 4
1966 - 7
1965 - 5
1964 - 7
1963 - 2
1962 - 1
1961 - 5
1960 - 1
1959 - 3
1958 - 4
1957 - 1
1956 - 2
1955 - 5
1954 - 2
1953 - 2
1952 - 3
1951 - 2
1950 - 4
1949 - 4
1948 - 3
1947 - 5
1946 - 1
1945 - 1
1944 - 2
1943 - 5
1942 - 20
1941 - 15
1940 - 43
1939 - 60
1938 - 74
1937 - 75
1936 - 69
1935 - 25
1934 - 9

As you can see, the worst single year for bank failures since the introduction of the FDIC came in 1989. This was at the height of the savings and loan crisis in the United States, and was also the same year that the Resolution Trust Corporation (RTC) was formed.

You can read more about the savings and loan crisis here.


General Information


The highest number of bank failures in one year since 1900 was 4,000. This took place in 1933.

In 2005 and 2006, there were 0 bank failures in the United States.

The largest bank failure ever was Washington Mutual (WaMu). Washington Mutual failed in 2008 and reportedly had over $300 billion in assets at the time of their failure.



Data Source: Federal Deposit Insurance Corporation (FDIC)