Reza Saleh Raked In Nearly $9 Million Dollars in Profits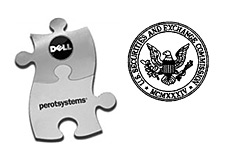 I guess that greed really does blind people, as Reza Saleh just made one of the most boneheaded moves in the history of boneheaded moves.
Earlier this week, Dell announced that it was purchasing Perot Systems in a $3.9 billion dollar, all cash deal.
The purchase price was significantly higher than what Perot Systems was valued at before the deal was announced, and shares of the company soared over 50%.
It was pointed out that there was a surge in call option buying the day before the deal was announced, making it almost 100% likely that somebody with insider knowledge of the deal was trying to illegally profit.
It seemed as though it would only be a matter of time before the SEC nailed somebody, as the trading activity prior to the merger was suspicious to say the least, and tracking down the purchaser of a large number of call options is not exactly a hard thing to do.
Fast forward a few days, and the SEC has already nailed somebody - Reza Saleh.
Saleh worked for a couple of Perot Systems affiliate companies, and apparently caught wind of the deal a few weeks ago.
Saleh apparently snapped up nearly 10,000 call options through his TD Ameritrade accounts, and ended up profiting to the tune of $8.6 million dollars.
Mr. Saleh, after selling his call options for an enormous short-term profit, started trying to withdraw the illicit profits from his accounts. He was able to pull out just $5,000 before the SEC jumped in and froze his accounts.
In the face of the overwhelming evidence against him, Saleh confessed his scheme to the SEC and will presumably be facing a jail sentence, in addition to the disgorgement of his ill-gotten gains, plus a sizable fine.
Amir Saleh, who apparently resides at the same residence as Reza Saleh, was also named as a defendant.
Didn't Reza Saleh realize that you need to be a major Wall Street firm to get away with a crime like this?
Source: Yahoo! Finance -
SEC charges Perot worker with insider trading
Filed under:
Stock Market Scandals