100+ Bank Failures For the First Time Since 1992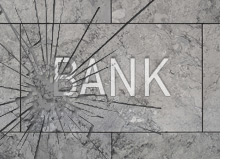 Seven banks failed this week, bringing the total number of failed banks in 2009 up to a staggering 106.
This is the highest number of bank failures in one year since 1992, when a total of 181 banks collapsed at the tail end of the savings and loan crisis.
There have been more bank failures in 2009 than the entire period spanning from the beginning of 1994 to the end of 2008.
During this time, a total of 103 banks failed in the United States.
In 2009 alone, a total of 106 banks have failed, with a couple dozen more expected (at least) in the last few months of the year.
In 2005 AND 2006, there were a grand total of zero bank failures in the United States. This just shows you the damage that has been done to the economy and the nation's banking system in just a few short years.
With hundreds of banks currently on the "
problem bank list
", you can probably safely assume that we will have more than 100 failed banks in 2010 as well.
Since the introduction of the FDIC in the '30s, the worst year on record in terms of total failed banks was 1989. In 1989, a total of 534 banks failed in the United States.
The worst year ever in the United States was 1930, when a total of 1,352 banks failed. More than 600 banks failed in November and December of that year alone.
2009 has certainly been a tough year for banks, but it still pales in comparison to the late '80s and early '30s in terms of total number of bank failures.
That being said, it will be interesting to see how many banks have failed by the time we return to pre-recession levels.
Source:
A History of Bank Failures in the United States
Filed under:
The Economic Meltdown