The Public Debt Load of the United States More Than Doubles in 10 Years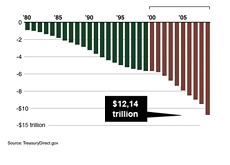 At the end of 1999, the United States possessed a total public debt load of $5,776,091,314,225.33.
Ten years later, the United States currently possesses a total public debt load of $12,144,893,016,570.46. This figure will grow significantly over the coming years, as the White House currently forecasts that we will have a long string of very large deficits over the coming years.
From December 31st, 1999 until December 31st, 2009, the United States has taken on an additional $6.36 trillion dollars in total debt.
The number becomes even more amazing when you consider the fact that the U.S. manage to post a surplus in both 2000 ($236.4 billion dollars) and 2001 ($127.3 billion dollars).
In 2001, things started to go south for the finances of the United States. 9/11, two expensive wars and a mild recession sent the country into the red in the first half of the decade.
The United States seemed to be fighting back in 2007, as the country managed to post a significantly smaller deficit ($162 billion dollars) compared to previous years.
After that though, things went completely haywire as the entire global economy nearly collapsed. The United States bailed out multiple industries and companies, a costly endeavor which forced the country to post their largest deficit ever (over $1 trillion dollars) in 2009.
The United States currently has a population of just over 300 million people - this means that the average citizen owes over $21,000 more than they did at the end of 1999 for their share of the US national public debt. The exact figure is around $21,052.63 or so.
If things go as expected over the next decade, then the United States should have around $19-$20 trillion dollars in total debt by the beginning of 2020.
The United States is projected to have a total population of around 346 million people by 2020.
This would mean that each and every one of these 346 million people would owe $57,803.47 as their share of the national public debt.
Source:
United States Public Debt Clock
Filed under:
The Economic Meltdown