Warren Buffett Praises Lloyd Blankfein at Annual Berkshire Hathaway Meeting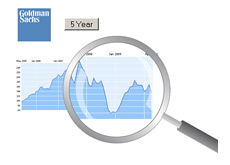 If you thought that the SEC's recent civil lawsuit against Goldman Sachs would convince Warren Buffett to sell Berkshire Hathaway's stake in the company, then you thought wrong.
If you thought that reports of the Justice Department opening up a criminal investigation in Goldman Sachs would convince Warren Buffett to sell Berkshire Hathaway's stake in GS, then you thought wrong again.
At Berkshire Hathaway's annual shareholder's meeting on Saturday, Warren Buffett and Charlie Munger both revealed that they are very happy with Berkshire's stake in the storied Wall Street firm, and have absolutely no intentions of selling.
Some people were of the opinion that Goldman Sach's recent legal woes would cause Warren Buffett to rethink Berkshire Hathaway's multi-billion dollar investment in GS. This, according to Warren Buffett himself, is not the case.
Berkshire Hathaway made a large investment in Goldman Sachs at the height of the financial crisis in the fall of 2008. The deal saw Berkshire Hathaway purchase $5 billion worth of perpetual preferred stock in GS that offered an annual dividend of 10%. Not only that, but Berkshire also received warrants to buy $5 billion worth of Goldman Sachs shares at a strike price of $115, exercisable anytime within 5 years of the original investment date.
The deal was extremely important at the time because it removed the possibility that Goldman Sachs might meet the same fate as Lehman Brothers or Bear Stearns. Berkshire's investment in the company provided some comfort to worried investors and helped move the country through a painful period.
Shares of Goldman Sachs are currently trading at $145.20, meaning that Berkshire Hathaway is already up a tremendous amount of money on their investment.
Buffett's stance on Goldman Sachs can hardly be surprising given his tendency to hold on to Berkshire's positions for a long period of time. Warren Buffett is famous for rarely selling his core positions, and I would expect that Berkshire will be a stakeholder in Goldman Sachs for decades to come.
Goldman Sachs has quite a few problems to deal with right now, but Warren Buffett bailing on the company isn't one of them.
Source: Businessweek.com -
Buffett Backs Goldman Sachs on Abacus Trade, Praises Blankfein
Filed under:
General Market News