Tesla Sags Below IPO Price of $17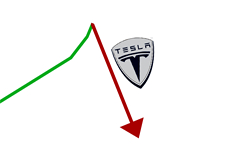 It wasnít that long ago when it would have cost you over $30 to buy one share of Tesla Motors (TSLA).
As a matter of fact - it was only last week.
As years of slow build-up, Tesla Motors finally went public on June 29th, 2010 amid great fanfare.
On the first day of trading, Tesla opened at $19 ($2 above its IPO price of $17) due to strong demand for shares. Many people are obsessed with Tesla Motors (and the idea of electric-powered cars), and this translated into very strong demand for TSLA shares on its first day of trading.
As mentioned, Tesla Motors opened at $19 on June 29th, 2010. The shares didnít stop there - by the end of trading, Tesla had closed at an impressive $23.89 per share.
Many people felt that empty hype was propelling the shares, and that things would return to normal on June 30th.
On June 30th, TSLA opened up at $25.79 per share. The stock continued to trend higher in early trading, reaching as high as $30.42/share before starting to pull back. Tesla Motors ended up closing at $23.83 on June 30th.
The people and investors behind Tesla Motors (especially Elon Musk) were obviously extremely happy with the companyís strong start as a publicly traded firm, but could it continue?
The answer, at least in the short term, has been no.
Since trading above $30 per share on June 30th, Tesla Motors has been steadily trending lower.
Actually, trending is not an appropriate word - instead, the stock has plunged lower.
At the close of trading earlier today (July 7th, 2010), Tesla Motors was trading at just $15.80 per share.
This is far below its June 30th closing price of $23.89 per share, and miles below its midday June 30th peak price of $30.42.
Investors in Tesla Motors should be very worried about the fact that the company is already trading below its IPO price of $17/share. That is never a good sign.
It should be interesting to see how shares in Tesla Motors do over the coming weeks and months, especially now that the IPO hype is starting to fade.
TSLA Twitter Page
TSLA Quote Page
Filed under:
General Market News