NASDAQ, DJIA and S&P 500 All Down Historically In September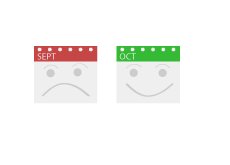 Are you starting to feel a bit anxious because October is just around the corner? After all, the markets have historically performed terribly in October, right?
Well, I have good news, and I have bad news.
The good news? October has gotten a "bad rap" (mainly due to "Black Monday" in 1987), and markets have performed significantly better during the month than most people realize.
Fact: since 1950, the S&P 500 has increased by an average of 0.56% in October.
Fact: since 1971, the NASDAQ has increased by an average of 0.2% in October.
Fact: since 1928, the DJIA has decreased by just 0.03% in October.
Phew! Crisis averted - October isn't so bad after all.
The bad news?
Historically speaking, September is, by far, the worst month of the year for the markets.
In fact, it's not even close.
Let's look at the historical September numbers from all three exchanges:
NASDAQ, -0.85%
S&P 500, -0.62%
DJIA, -1.41%
--
Now let's give you the next three worst months for all three exchanges, just to show you how truly bad September has been:
NASDAQ, July (-0.14%)
S&P 500, February (-0.3%)
DJIA, May (-0.11%)
Batten down the hatches, because September could be an ugly month for the markets.
--
Source:
DJIA Historical Data
Source:
NASDAQ Historical Data
Source:
S&P 500 Historical Data
Filed under:
General Knowledge