Germany Posts Largest Quarterly Economic Expansion in 20 Years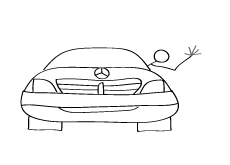 According to Bloomberg.com, Germany's gross domestic product (GDP) surged an unbelievable 2.2% in Q2, which is the fastest pace of growth for the country since its reunification nearly twenty years ago.
But wait, you might be saying to yourself, the US economy expanded 2.4% in Q2!
The 2.4% Q2 figure (which is expected to be revised down to around 1.2% in the coming weeks) in the United States was an annualized number. Germany, on the other hand, saw its economy expand by 2.2% in just the second quarter alone, leaving us with an annualized rate of approximately 9%.
Germany's unemployment rate is steadily heading lower as well. The country has posted lower unemployment numbers for 13 straight months and, unbelievably, has nearly recovered all of the jobs lost during the "Great Recession". Germany posted an unemployment rate of 7.6% in July, which is well down from its 2009 peak of 8.3%. Compare this to the United States, which is expected to see its national unemployment rate float higher to around 10% by late 2010 / early 2011.
Germany's unemployment numbers were kept in check during the recession due to the implementation of a "short work" program. This program allows German companies to move employees to shorter work weeks during times of weak economic demand. The companies will pay for the hours worked, while the German government will provide subsidies to pay for up to 67% of the remaining wage.
It is estimated that this program saved nearly half a million jobs. Compare this to the economic stimulus package enacted in the United States in February of 2009 (all $787 billion worth), which certainly did nothing to halt the rise of unemployment in the country.
--
Germany, which is one of the world's leading manufacturing powerhouses, also benefited from a weaker Euro during the second quarter. The weaker currency made Germany's products more competitive outside of the country. In addition, an uptick in global demand also helped to bolster Germany's exports.
Germany is also benefiting from a marked uptick in public and private spending in the country, which is a direct result of the increased optimism which is now coursing through the veins of the average German. After the recent Q2 GDP numbers, I would expect this trend to continue throughout the rest of the year.
--
It will be interesting to see how Germany does over the coming years, especially when compared against the performance of the United States.
Source: WSJ.com -
Germany Regains Jobs Lost in Recession
Source: Bloomberg.com -
Record German Growth Drives Euro-Region Expansion
Filed under:
General Market News