A Rollercoaster Ride For Apple Shareholders on Tuesday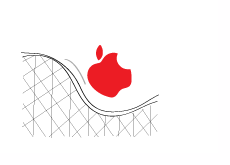 Apple shareholders got taken for a ride on Tuesday - and by ride, I mean a rollercoaster ride.
Let's say that you decided to pick up some shares of Apple just before the close on Friday afternoon at $348.48 per share. By the time that Tuesday's opening bell sounded, you would have been down an instant 6% on your investment, due to the fact that Apple CEO Steve Jobs revealed that he had been granted a medical leave of absence from the company so that he could "focus on his health". Jobs is an extremely important part of Apple, so the markets were understandably jittery on the news that he would be taking a leave of absence from the company.
So, by the time that you cracked open your paper on Tuesday morning, you were already down 6% on your investment. That's quite a drop considering that Apple is worth more than $300 billion.
The good news for you is that Apple battled back throughout the day, eventually closing at $340.65. The stock still finished down 2.25% for the day, but had been able to substantially recoup a great deal of its losses (Apple opened at $327.05 on Tuesday morning). The pessimism of the health announcement from Jobs was somewhat mitigated by the optimism surrounding Apple's Q1 earnings announcement later in the day.
As expected, Apple crushed its Q1 earnings estimates and also raised guidance for Q2.
The Street had been expecting Q1 revenues of $24.43 billion and $5.40 in EPS, while Apple had been forecasting $23 billion in revenues and earnings per share of $4.80.
The final numbers? $26.7 billion in revenues with earnings per share of $6.43. In addition, gross profit margins also came in higher than expected.
Q2 guidance was raised as well. The Street was expecting $20.78 billion in revenues and earnings per share of $4.47, and now the fiscal Q2 from Apple is expected to deliver $22 billion in revenue and $4.90 earnings per share.
Apple sold 16.24 million iPhones and 7.33 million iPads during the first quarter, easily outpacing Street expectations.
--
Apple understandably jumped on this news in afterhours trading, quickly touching $353-$354 per share, which is an all-time high. Shares have settled down now, and are currently trading at $350/share as the company launches into their conference call.
--
So, if you bought Apple on Friday afternoon, then you now have a small profit on your position, even if you had to endure a mini heart attack on Tuesday morning.
Source:
Davemanuel.com AAPL Quote
Filed under:
General Market News