Bernard Madoff Conducts Interview With New York Times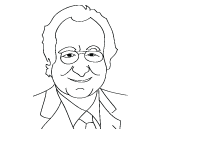 Bernard Madoff, the man behind one of the largest Ponzi schemes in history, recently conducted an interview with Diana B. Henriques of the New York Times.
Madoff, who is currently serving out a 150-year sentence at the Federal Correctional Complex in Butler, North Carolina, exchanged a number of emails with Henriques and also sat down with her for a two-hour interview.
This was Madoff's first interview for publication since he began serving out his sentence in 2009.
--
In the article "From Prison, Madoff Says Banks 'Had to Know' of Fraud" that was published earlier today in the New York Times, Madoff alleges that "unidentified banks and hedge funds" were "complicit" in his massive Ponzi scheme.
Regarding the "willful blindness" of the various banks and hedge funds that his firm dealt with:
"They had to know. But the attitude was sort of, 'If you're doing something wrong, we don't want to know.'"
Madoff points to the fact that these firms never examined the discrepancies between the information that was available to them and Madoff's regulatory filings as proof that they were looking the other way. As long as the profits were rolling in, Madoff alleges, these firms weren't too interested in turning over any rocks and taking a closer look at Madoff's numbers.
Madoff doesn't name names, and he doesn't contend that any of these firms were aiding him in his scheme, but he does say that a "failure to conduct normal scrutiny" enabled the Ponzi scheme to last for as long as it did.
--
Some of the other revelations from the article:
-Madoff contends that many of his long-term clients made more money with him legitimately than they could have made elsewhere
-Madoff's request to attend his son's funeral was denied due to "public safety issues" and a lack of time to make proper arrangements
-according to Madoff, Fred Wilpon and Saul Katz, who have been receiving a great deal of attention from the media as of late, "knew nothing" about Madoff's scheme. Earlier this month,
a lawsuit was filed by trustee Irving K. Picard
against Wilpon and his business partners seeking the return of at least $300 million in "fictitious returns". Picard alleges that Fred Wilpon and his partners "knew or should have known about" Madoff's Ponzi scheme.
-Madoff claims that he has been helping Picard recover assets for former clients, but he also thinks that Picard is going "too far" when it comes to clawing back money for the victim of his fraud
--
Source: NYTimes.com -
From Prison, Madoff Says Banks "Had To Know" of Fraud
Filed under:
Hedge Fund News