GSV Capital Soars After Buying $6 Million Worth of Facebook Shares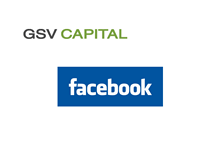 Earlier today, a company named GSV Capital Corp (GSVC on the NASDAQ stock exchange) revealed that they had purchased 225,000 shares of Facebook at a price of $29.28/share via a "private secondary transaction" (Facebook has not yet gone public - that is expected to happen during the first quarter of 2012).
Anyways, GSV Capital Corp, which is a thinly traded stock (average volume of 43,710 shares traded per day) jumped on the news, closing the day at $14.57 per share, up nearly 42%. The stock continued to trade higher during the afterhours session, tacking on another $0.54 per share.
The company, which is a publicly-traded investment firm that focuses on private companies, purchased the shares from former Facebook employees via SecondMarket. Facebook shares have traded as high as $35 in the secondary market (which would value the company at a mind-boggling $85 billion), so GSV Capital was able to buy the shares at a "discount".
Shares of GSV Capital Corp rallied for two reasons today:
1) They managed to buy shares of Facebook, which is one of the most hotly anticipated initial public offerings of all time
2) They managed to get in at a "discount"
GSV Capital spent roughly $6.6 million on the transaction, which means that their shares have already increased roughly $1.3 million in value if we can assume that Facebook is currently worth $85 billion.
A nice trade to be sure, but does it justify a $16-$17 million increase in the company's market cap?
--
The situation with GSV Capital Corp. today kind of reminded me of how things were in the '90s when online trading really took off.
Back then, all a company had to do was issue a press release with the "magic word" in it and their stock would go absolutely ballistic. Some of the "magic words" that I remember:
-Microsoft
-China
-Internet
Back in '97-'98, all a company had to do was issue a press release containing the words "Microsoft" or "Internet" and a pack of daytraders would soon show up, snapping up shares like a pack of rabid wolves. In 1999, the "magic word" was "China" - I still have "fond" memories of a stock (CPIH) that traded from something like $2 all the way up to over $80 in less than a week.. those were the days..
--
With the Facebook IPO just a few months away, I wouldn't be surprised to see more publicly traded companies trying to acquire shares of the social networking giant..
Filed under:
General Market News