Apple Flirting With $400 After Blowout Q3 Earnings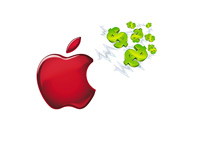 At the end of 2008, a single share of Apple Inc. would have cost you about $90.
Just 2 1/2 years later, and a single share of Apple Inc. will run you about $400.
The Apple juggernaut rolled on in after-hours trading today after the company reported their Q3 earnings. Big surprise! Another blowout, more hysteria and additional tens of billions of dollars added to their market cap in mere seconds.
Before their Q3 earnings report, Apple was trading at $376.85. This valued the company at around $348.5 billion.
In after-hours trading today, Apple soared to over $400 before pulling back slightly and finishing at $394.00. This price gives AAPL a market cap of over $364 billion.
$364 billion? This is about $45 billion less than the market cap of Exxon Mobil.
$364 billion? That's over $130 billion MORE than Microsoft's market cap.
$364 billion? That means that Apple is worth more than Disney, JP Morgan Chase and McDonald's COMBINED.
Apple continues to sell a mass of iPhones, iPads and iMacs. The company posted net income of $7.31 billion on sales of $28.6 billion in their third quarter. Growth may be slowing in the United States, but expansion into economies such as China, Taiwan and Hong Kong is making up the difference, and then some.
Apple sold 20.3 million iPhones, 9.3 million iPads and 3.95 million Mac computers during their third quarter, which ended June 25th.
Remember when some industry observers and gadget reviewers panned the iPad and said that it would be a disappointment? Well, the iPad 2 is flying off the shelves, and the iPad has now become Apple's second largest revenue source behind the iPhone.
Thanks to the ridiculous amount of extra cash that Apple is currently generating for itself, the company currently has over $78 billion in cash (and cash equivalents) sitting in the bank. As several people have pointed out today, that is more than the entire market value of Goldman Sachs.
--
There will come a day when Apple's incredible growth starts to slow. There will come a day when Apple releases a major new product that just doesn't catch on with consumers. There will come a day when analysts turn on the company and investors start to sell their shares.
Until that day comes, sit back and enjoy the show. Apple is crushing it in every way imaginable right now, and it is really quite a sight to behold.
Filed under:
General Market News