WSJ Weekend Only Subscription Discount
Click Here To Pay $1/Week For The Wall Street Journal
The Wall Street Journal is currently offering a special deal to its new members - pay just $1 week for the Print and Digital editions of the Wall Street Journal for 12 weeks. This gives you all of the Wall Street Journal print editions, plus access to the WSJ Digital product.
--
Do you have the Wall Street Journal delivered to your office during the week? Do you want to order the Wall Street Journal, but only have time to read it on the weekends?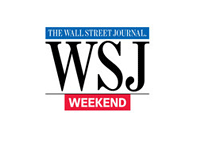 If so, the WSJ Weekend Edition is the perfect publication for you.
The WSJ Weekend edition, which was launched in 2005, is a bit different than the regular editions. To start, the WSJ Weekend edition is in full color. Second, the WSJ Weekend edition has some additional content that is not found in the regular weekly edition of the paper.
The WSJ Weekend edition has proven to be extremely popular with its readers, thanks to the inclusion of Culture and Cooking, Literature and Travel sections, just to name a few. And, of course, you will receive all of the financial news and analysis that you have grown accustomed to receiving from the WSJ.
--
Filed under:
Company Reviews