Groupon Falls Below IPO Price for First Time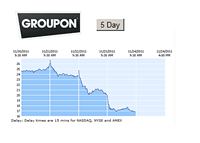 Groupon traded down over 15% today to close at $16.96, well below its initial public offering (IPO) price of $20.
Is anybody at all surprised?
Groupon is now trading at almost 50% of its all-time high of $31.14, which it hit just minutes after it originally opened for trading on November 4th.
On November 18th (just a couple of days ago), Groupon closed at $26.19. Over the course of the next three trading sessions, Groupon has traded down from $26.19 to $16.96.
On November 22nd, Groupon was desperately trying to stay above the $20/share mark. The very next day, the bottom completely fell out, sending the stock crashing down to its current level of $16.96.
Even after its precipitous crash over the past three days, Groupon still has a market cap of nearly $11 billion. Overvalued? Most investors and market observers say yes.
Groupon was one of the most hated initial public offerings that I have ever encountered in my lifetime. Prior to the company going public on November 4th, I couldn't find ONE person who was actually planning on purchasing shares of the company. Instead, practically everybody was asking me - "How do I short Groupon?"
It's not a big surprise that Groupon is tanking at this point. The big question now is - how low will it go?
Filed under:
General Market News