Nonfarm Unemployment Increased in 31 States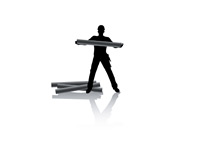 According to the BLS (Bureau of Labor Statistics), 44 states reported an increase in their jobless rates in July.
Two states (plus the District of Columbia) posted jobless rate decreases, while four states were unchanged.
Nonfarm payroll employment increased in 31 states in July, while 19 states posted a decrease.
The states that posted the largest unemployment rate increases in July were:
Including Puerto Rico, the states with the highest unemployment rates as of July were:
Puerto Rico with a rate of 13.7%
Nevada with a rate of 12.0%
Rhode Island with a rate of 10.8%
California with a rate of 10.7%
New Jersey with a rate of 9.8%
On the other side of the ledger, the states with the lowest unemployment rates in July were:
North Dakota with a rate of 3.0%
Nebraska with a rate of 4.0%
South Dakota with a rate of 4.4%
Oklahoma with a rate of 4.9%
Vermont with a rate of 5.0%
--
Nevada seemed to be gaining momentum earlier in the year, as their jobless rate dropped from 12.7% (January 2012) to 11.6% (May, June 2012). Unfortunately for the embattled state, things went the wrong way in July as the state saw their unemployment rate jump by 0.4%.
Michigan, which had the highest state unemployment rate for long stretches of time after the "Great Recession", also posted a 0.4% increase in their jobless rate in July. The state, which posted an unemployment rate of 14.5% in December of 2009, now has a jobless rate of 9.0%, which is within striking distance of the national average.
--
As CNN pointed out earlier today
, jobless rates rose in a number of "swing states" in July, which can't be good news for the Obama campaign. Virginia, Florida, Colorado, Nevada, New Hampshire, Iowa and Wisconsin all saw their unemployment rates rise last month. The right has been hammering Obama over the past week, with
Republican SuperPACs dishing out over $20 million
in attack ads on Obama in just the past seven days alone. The primary theme of many of these ads - President Obama hasn't been able to deliver the economic turnaround that he promised nearly four years ago.
--
Source:
Historical Unemployment Rates
Filed under:
The Economic Meltdown