Shares of Apple Momentarily Dip Below $400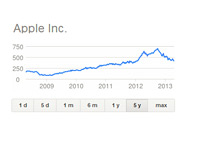 Shares of Apple continued their freefall on Wednesday, momentarily dipping below $400 before closing the session at $402.80.
Over the span of just seven short months, shares of Apple have traded down by 300 points. 300 points! That is hundreds of billions of dollars in market cap that has been obliterated in less than a year.
Apple has gone from being the stock that everybody HAD to own to a stock that suddenly nobody wants to own.
Just seven months ago, Apple was a couple hundred billion clear of Exxon Mobil on the list of the world's most valuable publicly traded companies. As of today's close, Exxon Mobil was valued at $385.68 billion, while Apple was valued at $378.25 billion.
Apple has gone from a company that was priced to perfection and could seemingly do no wrong to a company that is suddenly mired in a rut.
So what ails Apple?
There are a number of issues that are weighing on the company, including:
1) Expected weaker demand for key products, including the iPad Mini. Cirrus Logic, which reportedly derives more than 90% of its revenues from its relationship with Apple, announced a weaker-than-expected earnings forecast earlier today. The company substantially cut their revenue estimates for the first quarter from over $190 million down to $150-$170 million. This doesn't bode well for Apple.
2) Hellacious competition. From tablets to phones to computers, many companies are taking dead aim at Apple and their suite of products. The competition for tablet and smartphone sales has gotten particularly vicious as of late, and this has cast a shadow over shares of Apple.
3) Customers starting to tire of the constant upgrade cycle. Within my personal circle of family and friends, I can tell you that many people are constantly putting off the purchase of new Apple products, as the next upgrade will seemingly just be around the corner. Why buy an iPhone 5 now when the iPhone 6 will likely get released next year?
4) Lack of new game changing products. Remember the excitement and buzz when the iPod, iPhone and iPad were first released? Apple hasn't released a game changer for a while now - the latest innovations have been the iPad Mini and the iPhone 5. The iPhone 5 has underwhelmed many.
--
Apple continues to return to Earth. Can it regain its momentum?
Filed under:
General Market News