DJIA Drops Over 350 Points as Investors Flee Market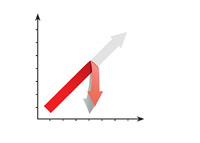 The markets were rocked for the second straight day as investors continue to come to terms with the fact that the Federal Reserve will likely be drawing their $80 billion/month bond buying spree to a close next year.
The markets experienced a broad-based sell-off today that hit nearly every sector. The markets endured waves and waves of selling as stocks were aggressively sold off.
Here is some of the damage that we witnessed today:
DJIA, -353.87 (-2.34%)
NASDAQ, -78.57 (-2.28%)
S&P, -40.74 (-2.50%)
In addition, gold, silver and oil also took it on the chin today.
This was the second straight day of heavy losses, as the markets sold off soon after the FOMC revealed that they would be continuing their $80 billion/month bond buying program for the near-term. The most important statement from the FOMC and Fed Chairman Ben Bernanke was that they are hoping to scale back the fiscal stimulus later in the year, and end it completely in 2014. This is assuming, of course, that the economy doesn't take a swan dive.
--
It was always known that the Federal Reserve would eventually be tapering their fiscal stimulus/easy money policy, but investors seem to have been taken by surprise by how fast the Fed plans on taking their foot off the gas.
The big question is - where is the near-term bottom?
Filed under:
General Market News