Research Before You Press That Buy Button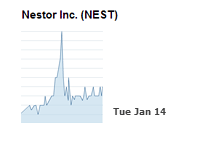 It happened again.
Back in October of 2013, traders pushed the shares of bankrupt Tweeter Home Entertainment Group, Inc. up as much as 1,800% after mistaking it for Twitter, Inc.
Earlier that week, Twitter, Inc. had filed for their initial public offering. In their infinite wisdom, some traders decided that they had found some sort of loophole/sneaky way to play the upcoming Twitter IPO and pounced on shares of Tweeter.
The same thing happened earlier this week as shares of Nestor Inc. increased almost 2,000% after traders confused it with Nest Labs, which was purchased by Google for $3.2 billion in cash.
The problem? Nest Labs is a privately held company, and Nestor Inc. is a company that went into receivership a number of years ago. As a matter of fact, trading on Nestor Inc. was virtually nonexistent over the past 4 years or so until Tuesday's surge. Whoever was still holding shares of Nestor Inc. must have thought that they hit the jackpot when they logged into their online accounts on Tuesday, as shares of the company temporarily surged.
Shares of Nestor Inc. closed at $0.0389 on Wednesday afternoon, and they will almost certainly continue lower over the next couple of days.
--
This is a great example of how a person needs to do at least a tiny bit of research before pulling the trigger on any buy.
Source: WSJ.com -
Nestor: The New Tweeter
Filed under:
General Market News