Shares of Facebook Hit All-Time High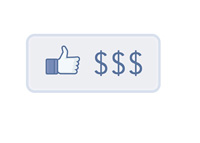 Shares of Facebook hit an all-time high on Thursday after a Q2 earnings report that was warmly received by investors.
Remember when the company had a mobile advertising problem? That problem has clearly been solved as Mark Zuckerberg revealed that 62% of the company's total advertising revenue was in the form of mobile ad revenue in the second quarter. There was a time, not that long ago, when Facebook's mobile advertising revenues were nothing. This was an important problem for the company to solve, as more and more users are accessing Facebook via mobile devices (the company reported 654 million mobile DAUs (daily active users) in June of 2014, up almost 40% from the year before).
-
As mentioned, Facebook's shares hit a new all-time high following the report and closed today's session at $74.98, which gives the company a valuation of $192.42 billion. This is a staggering turnaround from the company's early days as a publicly traded entity, as shares of Facebook could have been bought for as little as $18/share in late 2012.
The meteoric rise in shares of Facebook have obviously done wonders for Mark Zuckerberg's net worth, as Facebook's co-founder and CEO owns over 400 million shares of the company.
As of today's close, Mark Zuckerberg has a net worth of roughly $32 billion after adding roughly $1.6 billion to his fortune today.
Today's pop in Facebook shares has propelled Zuckerberg's net worth ahead of the likes of Jeff Bezos (Amazon), Sergey Brin (Google) and Larry Page (Google).
-
Zuckerberg is still far behind Bill Gates for the title of the world's richest person, but given the tear that Facebook is currently on, I wouldn't bet against "Zuck" one day being the world's richest man.
Source:
Mark Zuckerberg Net Worth
Filed under:
General Market News