Cynk Technology Corp. Resumes Trading, Drops Precipitously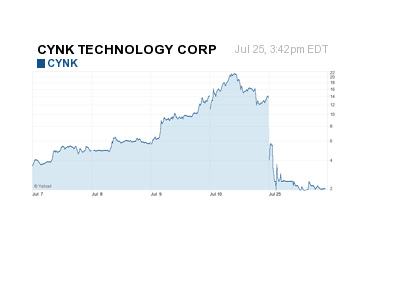 Shares of Cynk Technology Corp. (CYNK on the Pink Sheets) re-opened for trading on Friday following a two week halt by the SEC (Securities and Exchange Commission).
The shares predictably cratered on Friday, opening up at just $3.20 and closing the session at $2.10 for a total loss of 85%. Prior to the halt, Cynk Technology Corp. had been trading at $13.90 after hitting a high of $21.95. For a brief period of time, Cynk Technology Corp. was worth north of $5 billion.
This was an inexpicable valuation considering that:
-the company had no revenues and no assets
-the company seemingly had no business whatsoever
-the company had just one employee who wore a wide variety of different hats
-the company had just one major shareholder
Stock promoters had taken interest in the company that had previously traded for just 6 cents per share and sent its valuation to the moon. It seems as though stock promoters initially lit the fuse for the company, which resulted in some short sellers getting interested, which ultimately resulted in a major short squeeze.
-
On the same day that they lifted the halt on Cynk Technology, the SEC also published an investor bulletin that outlined the dangers of social media. Fraudsters, the SEC warned, can use social media to spread misleading information, which could result in a stock being valued at much more than its actual worth.
The SEC didn't mention Cynk Technology by name in the release.
Filed under:
General Market News