Berkshire Hathaway Closes Session at $202,850.00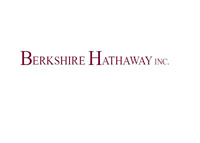 The company, which is a conglomerate that owns the likes of BNSF, Geico and Dairy Queen, as well as stakes in IBM and American Express, finished Thursday up $3,241.00 to close at $202,850 per share. A grand total of 568 shares changed hands during Thursday's session.
Berkshire Hathaway was a failing textile company when Warren Buffett took control of the company in the mid 1960s. By 1967, Buffett decided to diversify away from textiles and expand into other industries. Berkshire Hathaway's investment in the Government Employees Insurance Company (GEICO) would end up being one of the most important in the company's history.
Since 1965, Berkshire Hathaway has seen its book value increase by an average of 19.7% on an annual basis. This compares to an annual gain of 9.8% for the S&P 500 over the same period of time.
-
Warren Buffett has long championed the strategy of investing in or buying companies that he can understand that generate significant amounts of cash for its shareholders. Over the past 50 years, Berkshire Hathaway has amassed large stakes in companies such as Coca-Cola, IBM and American Express, as well as outright purchasing the likes of BNSF and Dairy Queen.
Buffett has long been against stock splits and dividend payouts, which is why shares of Berkshire Hathaway are currently north of $200,000. Buffett has long argued that he can invest Berkshire Hathaway's money better than investors can, which is why the company hasn't paid out any dividends.
-
Warren Buffett has had his share of critics over the years. Let's not forget the lambasting that he took when he refused to invest in Internet companies during the "dot-com boom" or the public outcry when Berkshire Hathaway snapped up some very nice deals during the financial implosion of 2008-09. If you knew Warren Buffett, you wouldn't have been surprised at his refusal to invest in Internet companies in the late '90s or his willingness to deploy massive amounts of capital when the markets were collapsing in 2008-09. Both moves turned out to be very smart, but Buffett certainly received his fair share of criticism at the time.
-
Berkshire Hathaway, just like Warren Buffett, is still going strong.
Filed under:
General Market News