Berkshire Hathaway Sold Exxon Mobil, ConocoPhillips Stakes During Fourth Quarter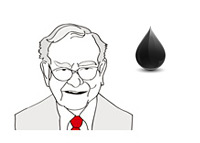 Many people were wondering how Warren Buffett and Berkshire Hathaway would approach the staggering decline in the price of oil that has taken place over the past couple of months.
Would Buffett, who is considered one of the greatest investors in the history of the world, maintain his stakes in Exxon Mobil and ConocoPhillips amidst the decline of oil and gasoline prices? Would Buffett jettison his stakes? Would he "double down"?
The answer to these questions was revealed earlier today after Berkshire Hathaway released their 13F-HR for the fourth quarter of 2014. Every three months, institutional investors of a certain size must list the securities that they owned as of the end of the most recently concluded quarter.
Berkshire Hathaway's 13F-HR for Q4/2014 revealed that the company sold ALL of their shares in both Exxon Mobil and ConocoPhillips during the fourth quarter. The ConocoPhillips stake was small (471,994 shares as of Q3/2014) as Berkshire Hathaway has been whittling down that position for a number of years. Buffett, in early 2009, famously admitted that purchasing ConocoPhillips had been a "mistake" and that he sometimes makes "unforced errors".
The company's stake in Exxon Mobil, however, was much larger.
Berkshire Hathaway acquired their stake in Exxon Mobil during the second and third quarters of 2013. At the time, Berkshire Hathaway owned 31.2 million shares of the company, making them the sixth largest shareholder of Exxon Mobil with over 0.9% of the outstanding shares. Analysts felt that Buffett was attracted to the company thanks to their strong brand, stable business and reliable dividend.
Unfortunately for Berkshire Hathaway and its investors, however, the price of oil has plummeted, especially during the fourth quarter of 2014. OPEC decided that they would not be lowering production in order to stabilize oil and prices subsequently plummeted. Instead of waiting around to see what would happen to oil prices, Warren Buffett decide to shoot first and ask questions later, selling the entirety of the company's stakes in Exxon and ConocoPhillips.
Source:
SEC.gov
Filed under:
General Market News