Berkshire Hathaway Continued To Add to IBM Position in Q1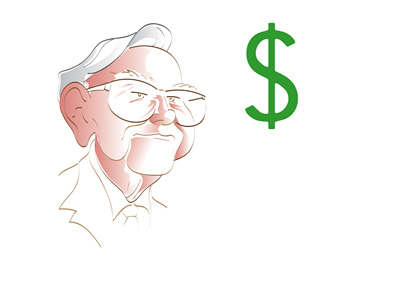 Earlier this week, institutional money managers needed to release their 13F-HR filings for the first quarter of 2015.
These filings allow investors to see what companies like Berkshire Hathaway were holding at the end of the first quarter of 2015. Did Warren Buffett's company initiate any new positions in Q1/2015? Did they add to any positions? Did they sell any positions?
Warren Buffett made the TV rounds earlier this year and touted the fact that he still liked IBM as a company, despite the fact that shares have been on the decline over the past year. Buffett said that the decline would allow him to buy more shares of the company, and buy he did in the first quarter, increasing his position by 3% to 79.6 million shares.
Buffett also decided to substantially increase Berkshire Hathaway's holdings in Wells Fargo (up 2% to 470.3 million shares) and US Bancorp (up 5% to 83.8 million shares).
In addition, positions in companies such as Liberty Global Plc, Phillips 66 and Twenty-First Century Fox Inc. also grew during the first quarter.
On the flip side, Berkshire Hathaway's positions in Bank of New York Mellon Corp, Charter Communications Inc., National Oilwell Varco Inc., Viacom Inc. and Wabco Holdings Inc. all shrank during the first quarter.
-
Warren Buffett has said that he is looking for "elephants" to acquire. In the first quarter, Berkshire Hathaway was part of the merger between Kraft and Heinz. Berkshire Hathaway, which, along with 3G Capital, owned Heinz, will now be a large shareholder in the combined Kraft/Heinz company. Warren Buffett received some criticism over the deal, as 3G Capital is renowned for effectively "cutting the fat" at companies that it acquires.
Berkshire Hathaway has a very large amount of cash on its books and Buffett has said that he is constantly on the prowl for business deals that make sense. The problem, however, is that Buffett is finding it hard to sift through all of the companies that currently have high valuations (at least in his eyes) to find value for his shareholders.
-
Source: Yahoo.com -
Buffett's Berkshire Adds to Favorites IBM, Wells Fargo
Filed under:
General Market News