The Clintons Will Take Significant Hit To Income if Hillary Wins Presidency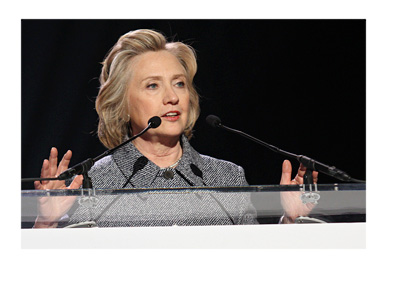 On May 15th, 2015, former Secretary of State and First Lady Hillary Clinton filed her personal financial disclosure with the FEC. All candidates for President are required to file personal financial disclosures within 30 days of officially announcing their entries into the races for the Presidential nominations.
This was the Clinton family's first such disclosure in a number of years. President Clinton left the White House in 2001 and hasn't held a public position since, while Hillary Clinton stepped down as Secretary of State on February 1st, 2013. The Clintons have not been required to file any personal financial disclosures since early 2013.
-
As mentioned, Hillary Clinton filed her personal financial disclosure about a month ago.
The filing revealed that the Clintons have a net worth of between $11,330,008 and $52,700,000 (net worths can fluctuate wildly on these documents because exact asset values don't have to be given - only ranges. For instance, the Clintons have cash in a JP Morgan Custody Account that could be anywhere from $5,000,001 to $25,000,000).
More interesting (in my opinion), is the fact that the Clintons made over $25 million in speeches over the 16 months starting January 1st, 2014. (the exact number was $25,242,500).
According to the filing, Hillary Clinton gave a total of 51 speeches during this time, which made her a total of $11,947,500.
Bill Clinton, on the other hand, gave a total of 53 speeches over that same time period, making a total of $13,295,000.
While the Clintons gave roughly the same number of speeches, President Clinton can still command the most money, as he was paid $500,000 for a couple of speeches. This included a speech to the Bank of America in London, England.
-
The Clintons are going to take a big hit to their incomes if Hillary Clinton wins her bid to become President in 2016. Hillary Clinton will obviously not be giving speeches if she is President, and President Bill Clinton has said that he will stop giving speeches if Hillary wins.
-
Here is a full list of the speeches that Bill and Hillary Clinton gave from the 16 months starting January 1st, 2014:
President Bill Clinton
Patient Safety Movement Foundation (Spouse), Laguna Niguel, CA - $315,000
National Multi Housing Council (Spouse), Boca Raton, FL - $265,000
Thomas Lloyd Global Asset Management (Schweiz) AG (Spouse), Frankfurt, Germany (Via satellite) - $200,000
The Fragrance Foundation (Spouse) - $260,000
Landry's Inc. (Spouse), New York, NY - $200,000
Centurion Jewelry by invitation Only, LLC (Spouse), Scottsdale, AZ - $225,000
Young President's Organization (Spouse), Los Angeles, CA - $100,000
Bright Future International - BFI (Spouse), Beverly Hills, CA - $225,000
Microsoft Corporation (Spouse), Las Vegas, NV - $225,000
Bank of America (Spouse), London, United Kingdom - $500,000
Kessler Topaz Meltzer & Check LLP (Spouse), Amsterdam, The Netherlands - $500,000
Telefonica USA, Inc. (Spouse) Miami, FL (Via satellite) - $175,000
CSP LLC (Spouse), Scottsdale, AZ - $225,000
Oracle America, Inc. (Spouse), Rancho Mirage, CA - $300,000
Experian (Spouse), Dallas, TX - $225,000
Jefferies LLC (Spouse), Miami, FL - $225,000
Friends of Simon Wiesenthal Center for Holocaust Studies (Spouse), Toronto, Canada - $275,000
Target Markets Program Administration (Spouse), Baltimore, MD - $275,000
UBS Wealth Management Americas (Spouse), Washington, DC - $225,000
SCIP Capital Management, LLC (Spouse), New York, NY - $250,000
EAT The Stockholm Food Forum AB (Spouse), Stockholm, Sweden - $500,000
Entergy Corporation (Spouse), New York, NY - $250,000
Insurance Accounting and Systems Association (Spouse), Indianapolis, IN - $225,000
Castlight Health (Spouse), New York, NY - $250,000
Hogan Lovells US LLP (Spouse), Toronto, Canada - $225,000
Skechers USA, Inc. (Spouse), Redondo Beach, CA - $350,000
Deutsche Bank AG (Spouse), Boston, MA - $270,000
Young President's Organization New York City Chapter, Inc. (Spouse), New York, NY - $150,000
Association of Energy Engineers (Spouse), Washington, DC - $275,000
Affiliated Managers Group, Inc. (Spouse), Napa Valley, CA - $225,000
Veritas Capital Fund Management LLC (Spouse), New York, NY - $250,000
UBS Wealth Management Americas (Spouse), Boston, MA - $225,000
Citadel, LLC (Spouse), New York, NY - $250,000
SAP America (Spouse), New York, NY - $250,000
Press Ganey Associates, Inc. (Spouse), Orlando, FL - $225,000
World Affairs Council - Los Angeles (Spouse), Los Angeles, CA - $150,000
Centerview Partners LLC (Spouse), Carefree, AZ - $225,000
AT&T Services, Inc. (Spouse), Tucson, AZ - $225,000
Williams Morris Endeavor (Spouse), Carlsbad, CA - $225,000
MPSF, Inc. (Spouse), Marin, CA - $181,250
MPSF, Inc. (Spouse), Oakland, CA - $181,250
MPSF, Inc. (Spouse), San Mateo, CA - $181,250
MPSF, Inc. (Spouse), Marin, CA - $181,250
UBS Wealth Management Americas (Spouse), Nashville, TN - $225,000
National Association of Manufacturers (Spouse), Scottsdale, AZ - $325,000
HR.com Limited (Spouse), Irving, TX - $275,000
Texas China Business Council, LLC (Spouse) Austin, TX - $285,000
Wyndham Hotel Group (Spouse), Las Vegas, NV - $225,000
ISN Software, Inc. (Spouse) Grapevine, TX - $275,000
Oracle Corporation (Spouse), Rancho Mirage, CA - $300,000
Univision Management Company (Spouse), New York, NY - $250,000
Apollo Management Holdings, LP (Spouse) New York, NY - $250,000
American Institute of Architects (Spouse), Atlanta, GA - $225,000
Hillary Clinton
GE, Boca Raton, FL (01/06/2014) - $225,500
National Automobile Dealers Association, New Orleans, LA - $225,500
Premier Health Alliance, Miami, FL - $225,500
Salesforce, Las Vegas, NV - $225,500
Novo Nordisk A/S, Mexico City, Mexico (via satellite) - $125,000
Healthcare Information and Management Systems Society (HIMSS), Orlando, FL - $225,500
A&E Television Networks, New York, NY - $260,000
Association of Corporate Counsel-Southern California, Los Angeles, CA - $225,500
The Vancouver Board of Trade, Vancouver, Canada - $275,500
tinePublic Inc., Calgary, Canada - $225,500
Pharmaceutical Care Management Association, Orlando, FL - $225,500
Drug Chemical and Associated Technologies, New York, NY - $250,000
Xerox Corporation, New York, NY - $225,000
Board of Trade of Metropolitan Montreal, Montreal, Canada - $275,000
Academic Partnerships, Dallas, TX - $225,500
Marketo, Inc., San Francisco, CA - $225,500
World Affairs Council-Oregon, Portland, OR - $250,500
Institute of Scrap Recycling Industries Inc., Las Vegas, NV - $225,500
Let's Talk Entertainment Inc., San Jose, CA - $265,000
California Medical Association, San Diego, CA (Via satellite) - $100,000
National Council for Behavioral Healthcare, Washington, DC - $225,500
International Dairy-Deli-Bakery Association, Denver, CO - $225,500
Let's Talk Entertainment Inc., Denver, CO - $265,000
United Fresh Produce Association, Chicago, IL - $225,000
tinePublic Inc., Toronto, Canada - $150,000
tinePublic Inc., Edmonton, Canada - $100,000
Innovation Arts and Entertainment, Austin, TX - $150,000
Biotechnology Industry Organization, San Diego, CA - $335,000
Innovation Arts and Entertainment, San Francisco, CA - $150,000
GTCR, Chicago, IL - $260,000
Knewton, Inc., San Francisco, CA - $225,500
Ameriprise, Boston, MA - $225,500
Corning Incorporated, Corning, NY - $225,500
Nexenta Systems, Inc., San Francisco, CA - $300,000
Cisco, Las Vegas, NV - $325,000
Robbins Geller Rudman & Dowd LLP, San Diego, CA - $225,500
Cardiovascular Research Foundation, Washington, DC - $275,000
Commercial Real Estate Women Network (Crew Network), Miami Beach, FL - $225,500
Canada 2020, Ottawa, Canada - $275,500
Deutsche Bank AG, New York, NY - $260,000
Advanced Medical Technology Association (AdvaMed), Chicago, IL - $265,000
Council of Insurance Agents and Brokers, Colorado Springs, CO - $225,500
Salesforce.com, San Francisco, CA - $225,500
Qualcomm Incorporated, San Diego, CA - $335,000
Massachusetts Conference for Women, Boston, MA - $265,500
tinePublic Inc., Winnipeg, Canada - $262,500
tinePublic Inc., Saskatoon, Canada - $262,500
Canadian Imperial Bank of Commerce (CIBC), Whistler, Canada - $150,000
Watermark's Silicon Valley Conference for Women, Santa Clara, CA - $225,500
Ebay Inc., San Jose, CA - $315,000
American Camping Association, New York Section, Atlantic City, NJ - $260,000
Source:
Hillary Clinton Net Worth
Photo:
J Carrier
Filed under:
General Knowledge