Berkshire Hathaway Reportedly Close To Precision Castparts Purchase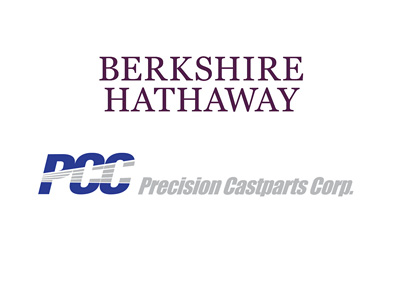 Warren Buffett may be close to bagging another "elephant".
According to reports, Berkshire Hathaway is closing in on a deal to buy Precision Castparts Corp. This deal, should it go through, would be the largest in the history of Berkshire Hathaway, surpassing the $26.5 billion that the company shelled out for the 77.4% of Burlington Northern Santa Fe that it did not own in 2010.
Precision Castparts Corp. is currently valued at $26.7 billion and would likely fetch a price of north of $30 billion.
-
Precision Castparts Corp. makes aircraft components and energy-production equipment and lists Airbus Group and Boeing as some of its customers. The company also makes pipes, fittings for power and industrial companies and other products.
Precision Castparts Corp. recently reported a profit of $1.53 billion on net sales of $10 billion for its fiscal year ending March 29th, 2015.
-
Berkshire Hathaway owned roughly 3% of Precision Castparts as of March 31st, 2015. The smaller stake size ($882 million) likely means that Buffett himself did not initially enter into the position, rather one of Berkshire's investment managers, Todd Combs or Ted Weschler. Buffett obviously liked what he saw in the company, however, and is now pressing to acquire the entirety of the operation.
Warren Buffett has long extolled the performance of the industrial sector companies, such as Iscar, Marmon and Lubrizol, in his company's portfolio. Precision Castparts would be the crown jewel in Berkshire Hathaway's industrial sector portfolio, should the deal go through.
-
Talks between Berkshire Hathaway and Precision Castparts are reportedly in the advanced stages, though nothing has been announced as of yet.
Source: Yahoo.com -
Buffett's Berkshire Nears Deal for Precision Castpasts: Source
Filed under:
General Market News