Aquinox Pharmaceuticals Inc. Trades From $2.45 to $55.75 - in Two Days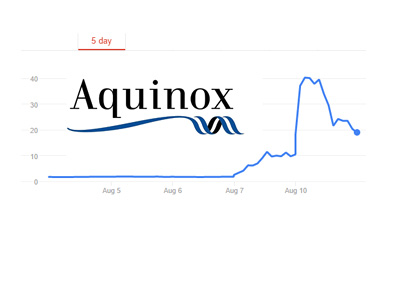 A move took place in the stock market over the last few days that had some people reminiscing about the "good old days" of the "dot-com boom".
Aquinox Pharmaceuticals Inc., which trades on the NASDAQ under the symbol AQXP, traded from $2.45 on Friday morning to a high of $55.75 earlier today before closing at $18.88.
The Aquinox Pharmaceuticals story started harmlessly enough on Friday morning after the company reported their earnings. The stock gapped up from $1.79 to $2.45, which attracted the attention of daytraders. Volume surged and the stock price soared, as shares of the company finished the day at $10.42.
The move higher continued on Monday morning after it was revealed that the Baker Bros. Advisors hedge fund had increased their stake in the company. Baker Bros. Advisors, which has more than $10 billion under management, filed a 13D in which they stated that they now owned 4.27 million shares of the company, which translates into a 39.8% stake. It's also important to note that the 13D filing means that the nature of the stake was changed to an activist position, which means that the hedge fund firm will likely be agitating for change.
Combine this news with the company's relatively small float (4.51 million shares) and you had a recipe for a continued move higher.
Aquinox Pharmaceuticals gapped up to $17.56 and exploded off the open. Despite the stock getting halted multiple times (it seemed as though the stock was getting halted every 10 minutes when I was watching it), AQXP continued to power higher, hitting a high of $55.75 before starting to pull back. The stock gyrated wildly over the course of the day, eventually closing at $18.88.
-
If you were lucky enough to buy on Friday morning and hold through the weekend, you made a small fortune.
If you were unlucky enough to short off the gap-up this morning, you almost certainly got steam-rolled.
Like I said, this move reminded many of the dot-com boom days of the late '90s when these types of moves were relatively common.
Filed under:
General Market News