Sharp Drop in Shares of Valeant Pharmaceuticals Has Led To Sharp Losses For Many Hedge Funds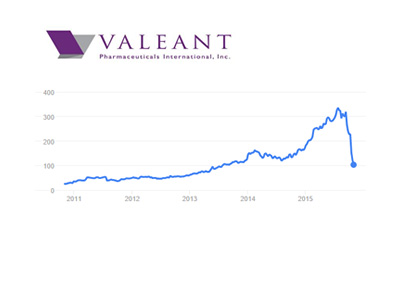 Another day, another sharp drop in shares of Valeant Pharmaceuticals Internationals, Inc.
Over 57 million shares of Valeant traded hands on Thursday as the company dropped over 14% to close the day at $78.77. The Valeant story, which has been in the forefront of the headlines, continues to change and grow more intriguing on a daily basis.
-
According to Bloomberg.com, Valeant has been massively popular amongst the hedge fund community for some time now. As a matter of fact, the only company that hedge funds have liked better than Valeant is Allergan Plc. According to Bloomberg, 22 different institutional investors held stakes of at least 1% in Valeant as of June 30th, 2015. This includes Pershing Square Capital Management, which owned 19,473,933 shares of the company as of the end of the second quarter. This stake, which was valued at over $4.3 billion on June 30th, has been dramatically pared down in value over the past few months (note: Pershing Square added 2 million shares to their position during the recent implosion of the stock).
Having such a following by the hedge fund community is great when a stock is rising - every piece of good news is met with more buying and short sellers usually stay far away.
The problem comes, however, is when a company's fortunes reverse. In the case of Valeant, for instance, any selling by a hedge fund just depresses the shares even further. A hedge fund like Pershing Square Capital Management is now being essentially held captive by Valeant, as they would have a very hard time unloading over 21 million shares onto the market without causing a further panic.
-
According to Bloomberg, the hedge fund community has lost $40 billion on Valeant since August. The pain has been profound, as the average stake has been roughly 10% of each fund's overall assets.
-
The big question now: will these funds be forced to watch as Valeant sinks even further, or will they ride Valeant higher like conquering heroes?
Source: Bloomberg.com -
A Bunch of Hedge Funds Got Burned by Valeant
Filed under:
General Market News